Overview
The plantar fascia acts like a bowstring and supports the arch and several muscles inside the foot. When there is increased stress on the arch, microscopic tears can occur within the plantar fascia, usually at its attachment on the heel. This results in inflammation and pain with standing and walking and sometimes at rest.
Causes
Plantar Fasciitis is simply caused by overstretching of the plantar fascia ligament under the foot. So why is the ligament being overstretched? There are different factors, over-use, too much sports, running, walking or standing for long periods (e.g. because of your job) weight gain, our feet are designed to carry a 'normal' weight. Any excess weight places great pressure on the bones, nerves, muscles and ligaments in the feet, which sooner or later will have consequences. Even pregnancy (in the last 10 weeks) can cause foot problems! age, as we get older ligaments become tighter & shorter and msucles become weaker; the ideal circumstances for foot problems, unsupportive footwear, 'floppy' shoes with no support as well as thongs affect our walking pattern, walking barefoot, especially on hard surfaces like concrete or tiles, low arch and flat feet or over-pronation. An important contributing factor to Plantar Fasciitis is 'excess pronation' (or over-pronation). This is a condition whereby the feet roll over, the arches collapse and the foot elongates. This unnatural elongation puts excess strain on the ligaments, muscles and nerves in the foot. When the foot is not properly aligned, the bones unlock and cause the foot to roll inward. With every step taken your foot pronates and elongates, stretching the plantar fascia and causing inflammation and pain at the attachment of the plantar fascia into the heel bone. Re-alignment of the foot should therefore an important part of the treament regime.
Symptoms
A very common complaint of plantar fasciitis is pain in the bottom of the heel. Plantar fasciitis is usually worse in the morning and may improve throughout the day. By the end of the day the pain may be replaced by a dull aching that improves with rest. Most people suffering from plantar fasciitis also complain of increased heel pain after walking for a long period of time.
Diagnosis
A thorough subjective and objective examination from a physiotherapist is usually sufficient to diagnose plantar fasciitis. Occasionally, further investigations such as an X-ray, ultrasound or MRI may be required to assist with diagnosis and assess the severity of the condition.
Non Surgical Treatment
Conservative treatment is almost always successful, given enough time. Traditional treatment often includes, rest, NSAIDs, and new shoes or heel inserts. Some doctors also recommend avoiding walking bare-footed. This means you'd have to wear your shoes as soon as you wake up. Certain foot and calf exercises are often prescribed to slowly build strength in the ligaments and muscles that support the arch of the foot. While traditional treatment usually relieves pain, it can last from several months to 2 years before symptoms get better. On average, non-Airrosti patients tend to get better in about 9 months.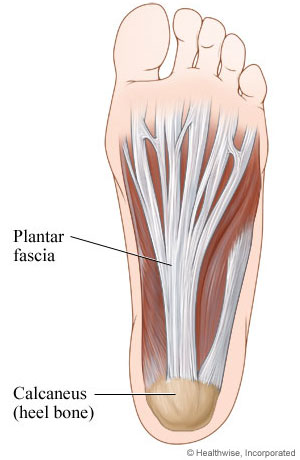 Surgical Treatment
Surgery is rarely used in the treatment of plantar fasciitis. However it may be recommended when conservative treatment has been tried for several months but does not bring adequate relief of symptoms. Surgery usually involves the partial release of the plantar fascia from the heel bone. In approximately 75% of cases symptoms are fully resolved within six months. In a small percentage of cases, symptoms may take up to 12 months to fully resolve.
Prevention
To reduce your risk of getting plantar fasciitis take these steps. Wear appropriate and well-fitted footwear during sports and exercise. Do stretching exercises for the Achilles tendon and plantar fascia. Increase the intensity and duration of exercise gradually. Maintain an appropriate weight.